Floyd Fain
February 14, 2017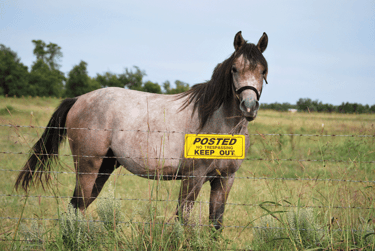 Thanks to stories and movies, many parents believe there is no inherent danger in letting children near horses, even horses they've never met before.
Children get injured around horses, and not just in cases of supervised riding mishaps. A considerable amount of physical and financial risk – to children, horses and you as a property owner – comes from kids visiting your public or private barn or field uninvited . This problem is so prevalent that in some states horses are included in what the law calls the "attractive nuisance" doctrine.
The FindLaw website defines attractive nuisance this way: "If your property contains items that both draw children in and threaten them with harm, the law places a special responsibility on you to take steps to protect the children who may come onto your property."
"My Stable – A Petting Zoo?"
Horse people have anecdotal evidence of the attractive nuisance phenomenon. Sites like the Chronicle of the Horse forum are filled with tales of owners and boarders finding strangers on their property.
In a thread titled, "My stable – a petting zoo?," a contributor recalled how a brewery's nearby open house drew families into her barn, which was off-limits (with signs clearly posted)."When I firmly told them that the stables were not part of the open house, one of the dads informed me that little Lisa luvs horses."
Another Chronicle contributor was shocked to find three trespassing adults hand-feeding the horses carrots. Apparently they did this every week:"We have yearlings, and a mare and foal down in the fields, in addition to a treat aggressive gelding. I'm impressed [they] haven't gotten kicked or bitten."
And then there's this:"I found a man with two toddlers standing in the middle of my barn patting and feeding the ponies. I explained to him nicely that it is OK to visit if I am home, but please ask first. He seemed a little put out by that for some reason."
Entitlement Gone Overboard?
"I was cleaning paddocks and saw a family top at the stone wall by the road, trying to feed lettuce to the horse in the paddock. The horse is a stallion, who is really nippy. …There were signs on the fence, hot, electric, do not feed or touch the horses. Guess that just doesn't apply to them, the little darlings."
Many owners would agree that both ignorance and a sense of entitlement drives this kind of behavior, but in the court's eyes, if a child is injured you could be held liable as the property owner.
How To Protect Yourself & Property
You can take steps by posting "no trespassing" signs along the property, but that won't necessarily aid you in a lawsuit. Attractive nuisance laws vary by state. In her Equine Law blog, attorney Julie Fershtman, a specialist in equine law, advises:

Never assume you are immune from liability because a child injured on your property was a "trespasser."

Defending yourself against "attractive nuisance" claims can be particularly expensive. Make sure you have proper liability insurance.

Never assume that your state's equine activity liability act protects you from an "attractive nuisance" claim. A young child who enters your pasture might not qualify as an "equine activity participant" under a state's equine activity liability law (but check your law).
This blog is not meant to be taken as legal advice; it is simply educational. Contact an experienced attorney for more information regarding liability law and how it applies to your facility and horses.