Floyd Fain
April 25, 2017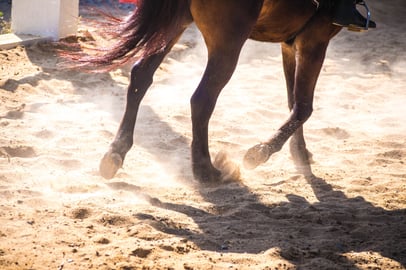 Watch any horse performing in an arena and you'll quickly understand the importance of good footing. From a reiner executing a rollback to a jumper landing a 3-foot rail, well-maintained, proper footing enhances performance.
Poorly maintained footing not only puts the horse's limbs at risk for injury or degeneration, but it can also undermine the horse and rider's confidence. Footing is one of the major risk factors for horses developing a lameness, according to a 2010 study of dressage horses by the Animal Health Trust Centre of Equine Studies and the Faculty of Veterinary Medicine at the University of Glasgow.
When choosing footing, a few key words come to mind: cushioning, traction, resistance. The choices of material can range from all-natural sand, clay-based dirt and wood shavings to additives like rubber mulch and synthetic fibers.
Is Your Footing Doing The Job?
Talk to the experts about how much and what kind of footing suits the discipline. Cutters, ropers and barrel racers should have a generous topping to absorb stress. Top-off for reiners could start at just a few inches.
Jumpers, however, will find deep footing difficult for getting the propulsion needed to start a jump. When choosing a footing material, consider what activities you'll need it for.
Maintenance Is A Priority
Footing gets dusty in the driest days of summer and winter. It can collect stones, debris and manure. But, primarily, it can break down from lack of regular watering, cleaning and dragging. This applies whether your arena is indoors or out.
Make the most of your investment – and keep your horses sound and happy – by taking steps to maintain your footing.
Maintenance begins when the footing is installed. The base is as important as the actual footing material. Make sure that whatever footing you're riding on top is consistent.
For everyday maintenance, water is a key. Whether through a simple hose or a time-saving tank kit, water keeps footing moist from top to bottom, reducing the risk of a hard landing on delicate joints.
How often to water depends on your environment, but just as important as the water is an arena set-up to avoid puddles. According to Footing First, "small fixes include: pulling in the edges of the arena to allow excess water to drain away; removing weeds and plants that grow around the edges; and staying absolutely on top of manure removal."
Drag For Results
One good harrow can save you countless hours in the arena. From grading to clod-busting, the drag equipment, used consistently, levels and rotates the footing for better aeration and helps the water do its job in maintaining moisture.
How often to drag? Once a day is not too often, and perhaps even twice on days the arena gets a lot of foot traffic.
Want to learn more about arena footing? Download our free whitepaper below.